AnimaManager
AnimaManager - our own software to start and manage jobs from your desktop.
Get the power of remote render farm to your computer through simple and friendly application.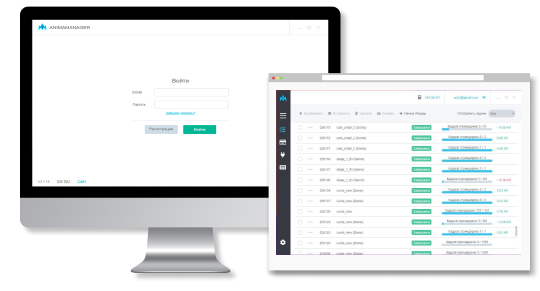 Why install AnimaManager?

One-click rendering from your software.
*Available for 3ds Max, Cinema 4D, Maya and Blender

You can also start render right in the app, in case you use some other software or you don't want to connect any plugins.

Automated files synch - get completed images to the specified folder on your PC.
A built-in error check in our plugins to prevent your rendering from failures.

Simple and intuitive interface, payments, farm news in the application.
Install AnimaManager

If you use 3ds Max, Cinema 4D, Maya or Blender, connect the plugin for your software. This can be done when installing the application, or in the "Plugins" section after installation.
If you use some other software or do not want to install any plugins, click "Start Render" inthe "Jobs" section.

Next, follow the instructions, depending on the selected way of submitting a job.